Splendor Among The Ruins
Episode 4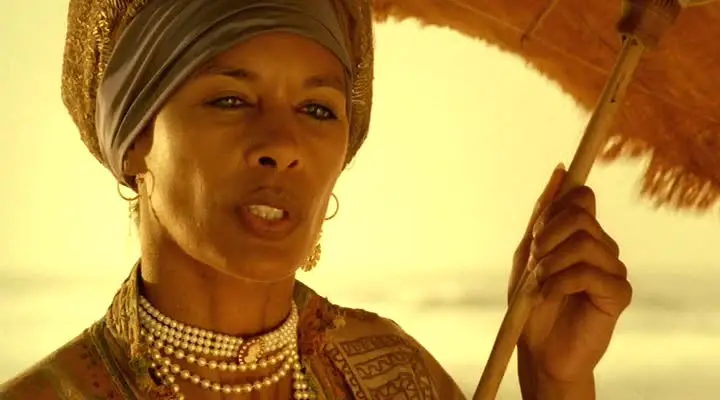 BARTLETT
Well then, that's what you are going to do around here. Your first task will be to take this mail and these parcels down to the post office. I am going to go to lunch at noon and I want you to come and see me after.
SCENE CHANGES TO A FANCY RESTAURANT WHERE B.J. ATTEMPTS TO ENTER
HEAD WAITER
I'm sorry, but your kind are not allowed in here.
BARTLETT
I have an appointment with someone. (the waiter shakes his head, unconvinced) If you won't let me in then will you at least tell Professor Grant Morgan that I am here for our appointment. (hands the waiter his business card)
HEAD WAITER
I am not your messenger-boy, so get lost. The Professor knows your kind ain't allowed in here.
BARTLETT
I'm not leaving until you give the professor my message or I'll go in there myself and tell him.
(The commotion brings the restaurant's manager over)
MANAGER
What is going on here? Why are you raising your voice in this place?
BARTLETT
I have a luncheon appointment with Professor Grant Morgan and this man will not let me in.
MANAGER
It is the policy of our place to deny whoever we want from entering. This place is off limits to you.
BARTLETT
Then will you kindly do me the curtesy of letting the professor know I called on him.
(The manager asks one of his waiters to let Professor Morgan know there was someone waiting for him)
MANAGER
Do you mind waiting at the back?
BARTLETT
Yes, I do, Sir.
(The manager walks away shaking his head; A few minutes later Professor Morgan arrives)
MORGAN
Forgive me, Ben, I didn't realize it would be a problem getting into the restaurant. If you don't mind eating in this place we could sit at my table and discuss the problem at length. (As they make their way to the professor's table, everybody stops to stare)
BARTLETT
This has been a rather horrifying two days. Last night, I went to the police station to file a complaint about an extortion attempt. Unfortunately, I was unable to register my complaint, but while I was there, I was witness to a police attack on a young black man. They picked him up for looking in a store window....
SCENE CHANGES TO MADAM WATSON GIVING A SPEECH AT A COLLEGE UNIVERSITY. SHE REMOVES HER FULL LENGTH, BLACK MINK COAT AND RESTS IT ON A CHAIR. IT FALLS AND SEVERAL STUDENTS RUSH TO PICK IT UP BUT MADAM WAVES THEM OFF
MADAM WATSON
It's only a coat. (she shakes her head with vigor) No need to bother.
BACK AT THE RESTAURANT, BARTLETT AND MORGAN ARE CONCLUDING THEIR TALK
MORGAN
I am looking forward to the day when a black man and a white man can sit down and break bread without all this....
BARTLETT
I'd be glad if we could at least get it into the courts and call some attention to our plight as a people.
(SCENE RETURNS TO MADAM WATSON FINISHING UP HER SPEECH. SHE IS APPROACHED BY THE LOCAL WOMEN WHO ASK HER TO COME AND SPEAK AT THEIR COLLEGE)
MADAM WATSON
Blacks are making progress. We have many lawyers, doctors and dentists. (she takes out her list) Listen to this. Four thousands physicians, eight hundred dentists, six hundred pharmacists. Let me see how many black-owned drug stores there are.... seven hundred and fifty of them! And in the hospitals and sanitariums, two hundred and fifty of us had jobs. Also, nurses and practical nurses add up to twenty three thousand, five hundred. (looks and smiles at the audience) The future looks encouraging.
SCENE CUTS
IT IS CHRISTMAS EVE AND MADAM WATSON IS HAVING A PARTY AT HER HOME FOR ALL EMPLOYEES. PROFESSOR GRANT MORGAN AND HIS WIFE ARE IN ATTENDANCE
MORGAN
It's a lovely party, Madam Watson, and we're having a wonderful time. It's a pity I have to interrupt to talk business with B.J. In the mean time, my wife will be happy to do her rendition of Silent Night. She plays piano quite well, if I may say so. (his wife appears shy) Come on, Mary, you should see the lovely piano Madam Watson has.
MADAM WATSON
Come this way, Mrs. Morgan, let the men talk their business while we have ourselves a good time. (she leads her in to the sitting room where the piano is) Everyone, this is Mrs. Mary Morgan and she is going to do us the honor of playing a tune or two on the piano.
MARY MORGAN
Please, everybody, feel free to join in.
SCENE SWITCHES TO A GROUP OF WHITE MEN PROWLING AROUND MADAM WATSON'S OFFICES. THEY ATTEMPT TO A SET FIRE BUT UNKNOWN TO THEM, THERE IS A GROUP OF BLACK MEN ON WATCH AND THEY TRY AS BEST THEY CAN TO PUT THE FIRE OUT AND CHASE AWAY THE MEN WHO STARTED IT
BACK AT MADAM WATSON'S, EVERYONE IS SINGING GOD REST YE MERRY GENTLEMEN AND CANNOT HEAR THE PHONE WHEN IT RINGS. THE MAID ANSWERS AND RUSHES TO FIND MADAM WATSON
MADAM WATSON
(Finds B.J. quickly) Some one set fire to the factory!
SCENE PICKS UP ON THE BUILDING. MADAM AND B.J. ARRIVE SHORTLY, FOLLOWED BY GRANT MORGAN. THE BUILDING WAS ONLY BURNT AT THE SIDE AND MOST OF THE PRODUCTS WERE STILL SALVAGEABLE. MADAM AND B.J. THANK THE MYSTERIOUS MEN WHO ACTED AS FIRE MEN.
MADAM WATSON
If any of you men ever need jobs, you can come and see us anytime.
LEADER
We have jobs we just don't get any pay for it. We got to look out for us colored folks. We know the white men who are out to attack us and when they plan to do it. And we try to head them off at the pass, so to speak. (tilts his head to one side with a faint smile) Madam Watson, I have a lot of respect for somebody like you and am happy to do this for you. (pause) But what we need is support for our Cause.
B.J. BARTLETT
What is your name? And what is your organization called?
LEADER
My name is Samuel Kaset, Sir. I represent an organization called C.A.U.L. - Coloreds Against Unlawful Lynchings. We try and stop or retaliate on those who do us harm. If you would like to help us equip our men with just the simplest of things we will be grateful.
MADAM WATSON
(she looks at his hair) I know just where to start. Your hair. Take your men to any shop in town that's owned by me and tell them to fix you up. Then go to the taylors and tell them I sent you. Then go see Mr. Bartlett and he will see about helping your cause. Thank you again and have yourself a merry Christmas and a most happy new year. And good luck in your endeavors.
SCENE CUTS
(SIX YEARS LATER )
MADAM WATSON HUGS AND KISSES HER DAUGHTER THEN WATCHES HER BOARD A VESSEL BOUND FOR PARIS. B.J. IS AT HER SIDE AS THEY WAVE GOODBYE AND SHOUT "BON VOYAGE". AFTER THE SHIP SETS SAIL, HE PULLS OUT A LETTER FROM GRANT MORGAN.
B.J. BARTLETT
After all this time, we WILL have our day in court.
THREE MONTHS LATER - SUPREME COURT
MUCH ATTENTION IS BROUGHT TO THE CASE OF MADAM WATSON. MEDIA TYPES FROM ALL OVER THE COUNTRY AND FROM AROUND THE WORLD ARE ON HAND TO WATCH GRANT MORGAN TAKE ON THE CONSTITUTION.
MORGAN
Your Honor, I would like to begin by saying that America has only ONE constitution and it applies to ALL citizens. My client, Theresa Henrietta Watson, is an American citizen and therefore, she should be treated accordingly, with all the rights and privileges that American citizen enjoy under the Constitution...
PARIS, FRANCE
D' SILLA ATTENDS A PRIVATE SCHOOL FOR GIRLS. ONE OF HER CLASSMATES, A YOUNG BRITISH GIRL, SHOWS HER AN AMERICAN NEWSPAPER WITH HER MOTHER'S PICTURE ON THE FRONT PAGE
CLASSMATE
You mean you are not allowed to go and see a movie because you're black? What do you do for entertainment in America?
D'SILLA
Sometimes, if I really want to find out about a movie, I'll ask a friend who can pass....
CLASSMATE
Pass?
D' SILLA
Someone who is black but can pass for white.
CLASSMATE
How awful! How unjust! How do you put up with it?
SCENE RETURNS TO THE SUPREME COURT. MORGAN IS QUESTIONING THE DEFENDANT, THE OWNER OF THE CINEMA WHERE MADAM WATSON HAD BEEN REFUSED ENTRANCE.
MORGAN
Mr. Mars, can you tell the Court why it is you think that black people should not be able to come into the theatre to see the moving pictures.
MARS
They ain't like white people. They'd come and start talking back to the screen and saying "Amen" and all that stuff, disturbing the other customers. I don't want them in my cinema.